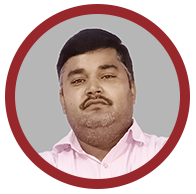 A home away from home is an apt description of BFIL. Employee friendly work environment, sense of belonging to a big family where seniors guide and stand by you in critical situations and close bonding with colleagues are attributes that have kept me going in this organisation for over a decade.
I started my career as a Sangam Manager Trainee. As with many of my colleagues I was also presented with good growth opportunities all through my career. The training and learning programs conducted frequently instilled confidence in me to take up senior roles. Today I am a Unit Manager and leader of my team. With a wide presence across India and the reputation it enjoys among customers, BFIL is a place to be if one is interested in working in the rural heartland, where a vast majority of Indian population resides.
I really cherish working with BFIL. It has helped shape my personality and made me what I am today – confident and an achiever. Thank you BFIL!
Ashutosh Pandey
Unit Manager - Barkagaon - B, Ranchi RO
Team member since October 04, 2007